Build for Zynq™ UltraScale+™
Maximize the potential of AMD's powerful chipset
With all skill sets under one roof, we optimize the potential of Zynq™ UltraScale+™ development, with:
Expert hardware design (we've worked with designs requiring up to 17 sequenced power rails)
Signal integrity expertise
Strength with Linux OS, including; custom drivers, device trees, Board Support Packages (BSP), and application development
Knowledge of small to large FPGA fabrics and transceivers up to 32Gbps+
Experience using AMD IP, AMD reference designs and third-party IP
We also own and maintain a fully-stocked laboratory at each design center, so you don't have to invest in building labs to integrate and debug your designs.
Zynq™ UltraScale+™
AMD®'s Zynq™ UltraScale+™ is a powerful, highly flexible device that powers sophisticated applications for everything from consumer devices to industrial edge computing. To take advantage of its many features – APUs, RPUs, GPU, MACs, FPGA fabric and more – Fidus engineers are ready to support your team with expert knowledge in hardware, FPGA, software, and thermal design.
Six reasons to choose Fidus
Having completed over 20 Zynq™ UltraScale+™ designs in the past year alone, we're ideally placed to lower your design risks and accelerate your time to market. With Fidus, you never start from zero on a Zynq™ UltraScale+™ design as our team has essential expertise like schematic blocks, thermal strategies, and code ready to reuse.
Working with the Zynq™ UltraScale+™ chipset can be tricky, so we've developed this resource tool kit to explain key design considerations and techniques for avoiding the most common mistakes. This tool kit includes:
MPSoC Capability Sheet – 6 Keys to Zynq™ UltraScale+™ success
Zynq™ UltraScale+™ Hardware Designers Guide – with links to useful AMD Zynq™ UltraScale+™ documents
Zynq™ UltraScale+™ Product Case Study – a Robust Prototyping Solution for Synopsys® – Mantyss-32G™, a daughter card for HAPS®
Resource Tool Kit
View our comprehensive collection of assets to assist you with all or some of your Zynq™ UltraScale+™ design.
Take advantage of an AMD Premier Partner
As the inaugural AMD Premier North American Design Services member, Fidus receives exclusive training, certification and early-access to tools, IP, and new silicon. This means you get knowledge and insights at the forefront of AMD's roadmap, experience with up-to-date tool flows and top preference within the AMD support network to de-risk your projects and enable your team for future success.
Use cases
Learn how Fidus designers help partition and port your designs across the various compute elements to achieve maximum performance.
Learn how Fidus designers help your team with machine learning model architecture and offline model training, including porting, deploying and testing your trained models into FPGA fabric.
Learn how Fidus reduced time-to-market for a highly complex Zynq™ UltraScale+™ 19 GB system, including hardware, software and FPGA development, and full bring up, characterization and debug.
Requirements definition
Zynq™ UltraScale+™ device selection
Partitioning PS and PL functions
Power system budgeting, design, and sequencing
BSP and driver design, U-Boot/Linux
GStreamer implementations and customization
PS implementation and interfacing
PS GTR usage and implementation
Clocking
PL functional block design and PS communication
Memory subsystem design and implementation
Signal and power integrity
High-speed (32Gbps+) PCB layout
Thermal assessment and solutions
Vivado, PetaLinux
Linux, U-Boot
DDR4 @ 2400Mbps
Boot Options (SecureDigital, QSPI, eMMC, NAND)
USB; 2.0 and 3.0 SuperSpeed
PCIe; Root and End Point
Storage; M.2, NVMe, SATA
Video encoding; H.264/H.265, VCU
Video Interfaces; HDMI4K, DisplayPort, SDI, MIPI, VPSS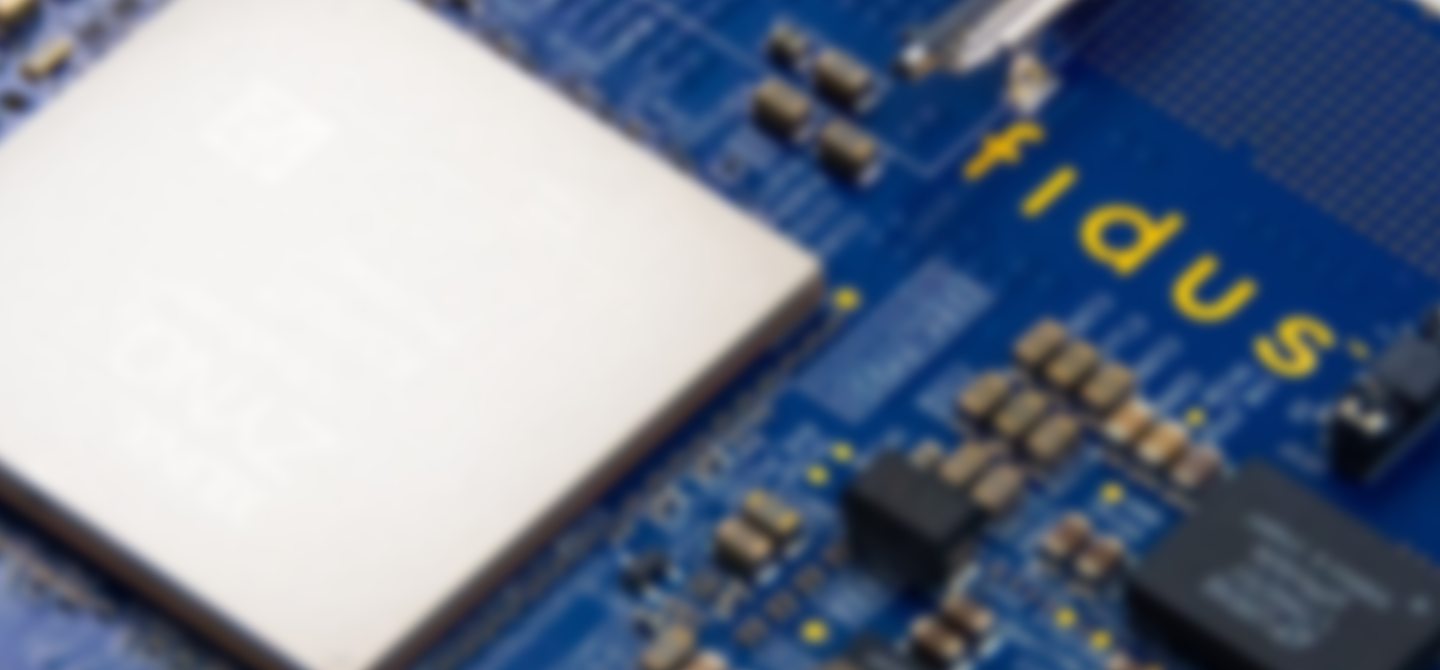 Experience has taught us how to solve problems on any scale
Trust us to deliver on time. That's why 95% of our customers come back.
Contact us